Our M&A advisory team will assist you, whether you need strategic advice, you are buying or selling a business, planning an MBO/MBI or you need to raise funds.
Our M&A advisory services:
For buyer
Developing M&A strategy
Researching and identifying target businesses, locally and internationally
Leading the acquisition process and negotiations
Assistance in fundraising
For seller
Developing M&A strategy
Identifying and evaluating potential buyers
Managing the sales process and preparing the presentation materials
Contacting the buyers and leading the negotiations
Arranging the dataroom for buyer

'

s

d

ue

d

iligence
Our experienced corporate finance specialists, together with the global network in over 140 countries, enables us to research and identify target businesses or potential buyers both domestically and globally. Our expertise covers most industries such as retail, healthcare, metal industry, transportation and logistics.
Our advisory services also cover competition law issues. Our experts have worked as a special representative of minority shareholders in several cases assigned by the European Commission and the Finnish Competition Authority.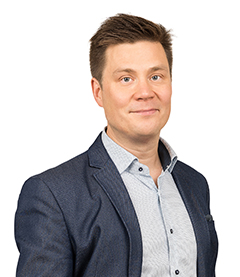 Head of Advisory
Head of Advisory, Managing Partner
How can we help?
If you need any further information, please fill out the contact form and we will contact you soon